Metal fabrication is the building of metal structures by cutting, bending and assembling processes. It is a value-added process that involves the construction of machines and structures from various raw materials.
GTMSB is highly experienced in Metal Fabrication works as well. This is a specialized and niche business that GTMSB has been involved for quite some time. Started from fabricating tools for underwater diving works, providing metal solutions for storages, bridges, jetty and dredging works for existing clients, we have evolved. GTMSB now, is catering to many types of metal fabrication works for various Industries namely, Construction / Housing Developers, Plantation Mills / Factory Construction (or its internal assembly lines fabrication and operation repair and maintenance needs e.g. conveyor belts, boilers etc.), Highways and Public Transportation – LRT/MRT/KTM,  Advertising, Telco's industry and Themeparks / Heavy Structure fabrication.
GTMSB have a comprehensive facility to undertake this metal fabrication jobs. We have a complete set of highly experience team members and various metal fabrication tooling and machines to readily serve our clients orders and needs. We follow a strict ISO based S.O.P and utilized a well-trained team for any jobs that we undertake, from clients first meeting and consultation, to drawings / designing, cutting, assembly, delivery and installations processes. GTMSB have from the conventional, to state of the art Metal Fabrication, Designing, Cutting and Rolling machines including Laser cutting tools and assembly lines to meet customer's expectations and ensure client's satisfaction. Depending on each job size, we have the options of our various types of machineries at our facility and size of yards to be used located in Rawang, Selangor, ready to undertake our client's orders. In addition, we also could cater for on-situ metal fabrication job requirements if needed or long contractual phases.
Typical projects or orders include light and loose parts to heavy structural frames for buildings and heavy equipment, stairs and hand railings, gates for buildings etc. Anything you see around you, from a safety pin to heavy machinery, factories, buildings, houses, highways, LRT stations etc. are some parts if not all involve Metal fabrication works. It has applications across many industries. Famous for its strength, versatility, quality and value, metal is one of the most widely used materials in any construction; however, it simply wouldn't be possible to enjoy those many benefits of metal without the work of fabricators like us, GTMSB.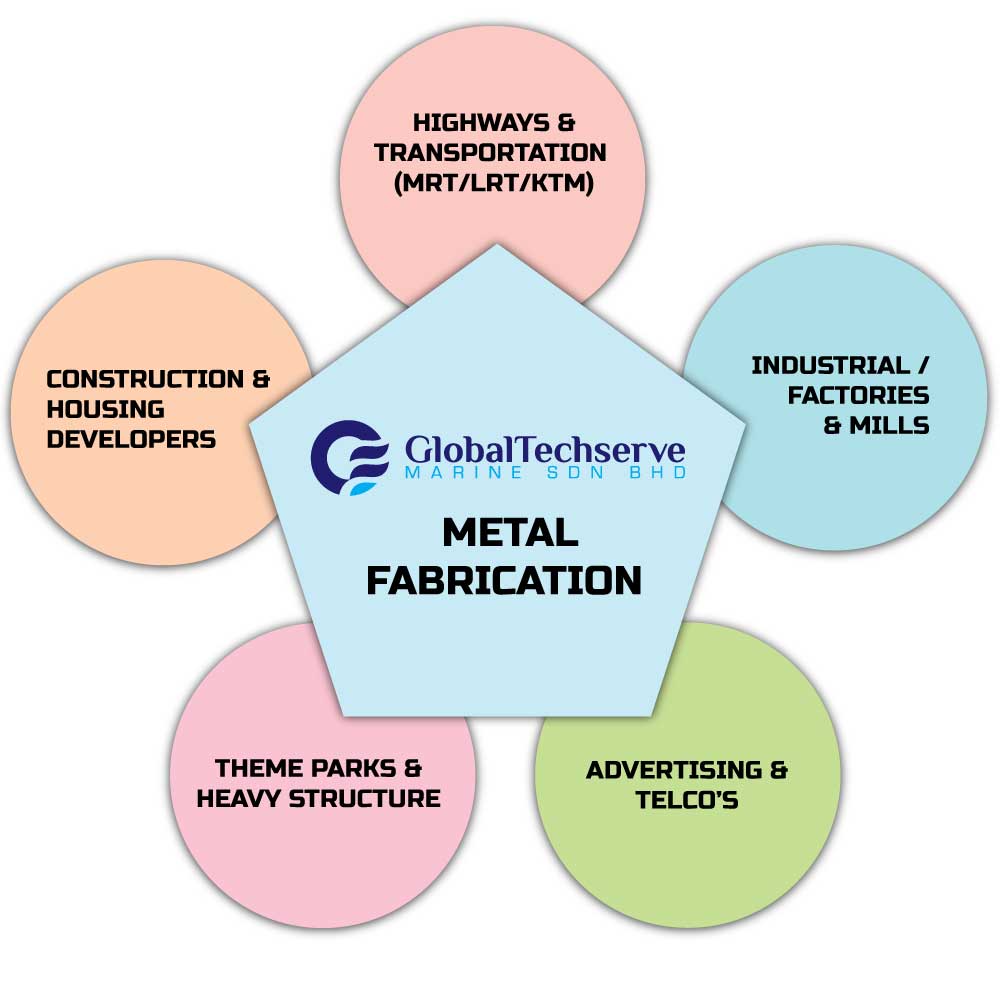 GTMSB METAL FABRICATION 1 – INDUSTRIAL & FACTORIES & MILLS
Factory Extension and Metal construction work

GTMSB METAL FABRICATION 2 – ADVERTISING & TELCO'S (BOARDS / UNIPOLES ETC. / COMMUNICATION TOWERS ETC)
Fabrication of billboard / Unipoles

GTMSB METAL FABRICATION 3 – CONSTRUCTION & HOUSING DEVELOPER
Awning house and Gate house fabrication

GTMSB METAL FABRICATION 4 – HIGHWAYS & TRANSPORTATION (MRT/LRT/KTM)
KTM rails station and road work guard rail / highway accessories

GTMSB METAL FABRICATION 5 – THEME PARK / HEAVY METAL STRUCTURE FABRICATION
Fabrication of theme park at Genting Highland's

DOWNLOAD DETAILED EXPERIENCE ON THE METAL FABRICATION SERVICES