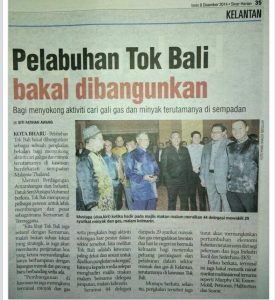 On the 6th and 7th of December 2014 Globaltechserve Marine Sdn Bhd was invited by Malaysian
Investment Development Authority( MIDA ) as part of delegates from oil and gas companies to attend the site visit and briefing of oil and gas  supply       base in Tok Bali, Kelantan.  The operator of the port is Tok Bali Supply Base Sdn Bhd.  Globaltechserve Marine Sdn Bhd was represented by its CEO Tengku Derritz Idzran Tengku Mohd Fahmi and Executive Director Kamal Azad Kamaruddin.
The idea of establishing new port for oil and gas supply base on the east coast of Malaysia is to cater for oil and gas activities in terms of vessel berthing where currently the traffic at Kemaman Supply Base is increasing to cope with the demand of Oil & Gas supply .  Furthermore Tok Bali is strategically located in termsof distance from oil and gas offshore platforms where activities in JDA Malaysia and Vietnam are concerned.
Prior to the site visit the delegates were hosted by MIDA for a dinner at Renaissance Hotel Kota Bharu. Minister of International Trade & Industry, Datuk Seri Mustapa Mohamed was among the VIP invited to talk about the potential investment of Tok Bali port. The next day on the 7th December 2014 delegates were transported to Tok Bali port for site visit and briefing by its Chief Operating Officer Mr. Jim Iler where he talked about the potential on the investment of the new supply base.
After the briefing and site visit the delegates were treated for lunch at resort in Tok Bali before heading to Kota Bharu airport to depart to KLIA.